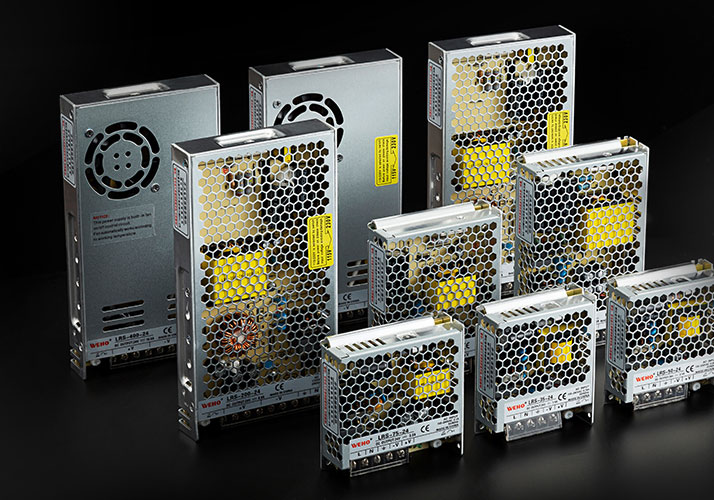 WeHo LRS Enclosed Power Supply
The WeHo LRS series is an enclosed type power supply. This is a style that holds the switching AC-DC circuitry within a metal mesh frame where connections are made via screw-in terminals. This is the easiest power source to hook up outside of the GST series. These power supplies can be hardwired or can work with a simple power cord connecting from the input terminals to plug in the wall.
The LRS switching AC/DC power supplies are single-output transformers that are packed into a low-profile design sitting at only 30mm tall (1.18"). They deliver very low no loading power consumption, allowing the end LED system to easily meet the worldwide energy requirement. The LRS delivers the best price-to-performance solution on our site while having a full range of protection functions.
HIGH WATTAGE: UP to 400 Watts!
Input Power: 90-264VAC
Output Voltage: 12, 15, 24, 36, 48VDC
Highly Efficient & Reliable
Connections: Screw-in Terminals
Low Line & High Line Voltage
LRS-35/50/75/100: Adopt the full range 85-264VAC input.
LRS-150/200/350/400: Adjustable input voltage 115VAC or 230VAC (select via switch)
Natural Cooling
Open Frame Switching Power Supplies, as you can see from the picture, are power sources where the circuit board and components are encased in a metal casing with small holes throughout. This aids in air flow and cooling as the components are all open to the outside air. When dealing with a lot of power, it is best to make sure there is a way to control the heat. Operating temperatures vary by size, see datasheet documentation below for exact technical info on each one.
The LRS-350 series actually has a built-in fan to aid in heat control. This is the only model that uses this design as it is carrying larger loads and heat is more likely.
Connections
All connections are made via screw-in terminals. This makes it super easy to connect all your wires with input ports for your line voltage and couple difference output ports if you have multiple lights powered by the one power supply.
Mounting
There are mounting holes on the power supply if you need to mount to an object. Another way to mount would be using double sided velcro or tape.
Comparison Specifications

Model
AC Input
Output
Dimensions
Voltage Range
(L) x (W) X (H)
Min.
Max.
Volts
Current
Watts
mm
LRS-35-12
85
264
12V
3A
35W
99 X 82 X 30
LRS-35-15
85
264
15V
2.4A
35W
99 X 82 X 30
LRS-35-24
85
264
24V
1.5A
35W
99 X 82 X 30
LRS-35-36
85
264
36V
1A
35W
99 X 82 X 30
LRS-35-48
85
264
48V
0.8A
35W
99 X 82 X 30
LRS-50-12
85
264
12V
4.2A
50W
99 X 82 X 30
LRS-50-15
85
264
15V
3.4A
50W
99 X 82 X 30
LRS-50-24
85
264
24V
2.2A
50W
99 X 82 X 30
LRS-50-36
85
264
36V
1.45A
50W
99 X 82 X 30
LRS-50-48
85
264
48V
1.1A
50W
99 X 82 X 30
LRS-60-12
85
264
12V
5A
60W
99 X 82 X 30
LRS-60-15
85
264
15V
4A
60W
99 X 82 X 30
LRS-60-24
85
264
24V
2.5A
60W
99 X 82 X 30
LRS-60-36
85
264
36V
1.65A
60W
99 X 82 X 30
LRS-60-48
85
264
48V
1.25A
60W
99 X 82 X 30
LRS-75-12
85
264
12V
6A
75W
99 X 97 X 30
LRS-75-15
85
264
15V
5A
75W
99 X 97 X 30
LRS-75-24
85
264
24V
3.2A
75W
99 X 97 X 30
LRS-75-36
85
264
36V
2.1A
75W
99 X 97 X 30
LRS-75-48
85
264
48V
1.6A
75W
99 X 97 X 30
LRS-100-12
85
264
12V
8.5A
100W
129 X 97 X 30
LRS-100-15
85
264
15V
7A
100W
129 X 97 X 30
LRS-100-24
85
264
24V
4.5A
100W
129 X 97 X 30
LRS-100-36
85
264
36V
2.8A
100W
129 X 97 X 30
LRS-100-48
85
264
48V
2.3A
100W
129 X 97 X 30
LRS-120-12
85
264
12V
10A
120W
129 X 97 X 30
LRS-120-15
85
264
15V
8A
120W
129 X 97 X 30
LRS-120-24
85
264
24V
5A
120W
129 X 97 X 30
LRS-120-36
85
264
36V
3.3A
120W
129 X 97 X 30
LRS-120-48
85
264
48V
2.5A
120W
129 X 97 X 30
LRS-150-12
115
230
12V
12.5A
150W
159 X 97 X 30
LRS-150-15
115
230
15V
10A
150W
159 X 97 X 30
LRS-150-24
115
230
24V
6.5A
150W
159 X 97 X 30
LRS-150-36
115
230
36V
4.3A
150W
159 X 97 X 30
LRS-150-48
115
230
48V
3.3A
150W
159 X 97 X 30
LRS-200-12
115
230
12V
17A
200W
215 X 115 X 30
LRS-200-15
115
230
15V
14A
200W
215 X 115 X 30
LRS-200-24
115
230
24V
8.8A
200W
215 X 115 X 30
LRS-200-36
115
230
36V
5.9A
200W
215 X 115 X 30
LRS-200-48
115
230
48V
4.4A
200W
215 X 115 X 30
LRS-350-12
115
230
12V
29A
350W
215 X 115 X 30
LRS-350-15
115
230
15V
23.2A
350W
215 X 115 X 30
LRS-350-24
115
230
24V
14.6A
350W
215 X 115 X 30
LRS-350-36
115
230
36V
9.7A
350W
215 X 115 X 30
LRS-350-48
115
230
48V
7.3A
350W
215 X 115 X 30
LRS-400-12
115
230
12V
33A
400W
215 X 115 X 30
LRS-400-15
115
230
15V
26.7A
400W
215 X 115 X 30
LRS-400-24
115
230
24V
16.5A
400W
215 X 115 X 30
LRS-400-36
115
230
36V
11A
400W
215 X 115 X 30
LRS-400-48
115
230
48V
8.3A
400W
215 X 115 X 30