LED Driver / LED Power Supply
LED power supplies are vital for operating LED systems effectively. An LED driver serves the same purpose as a ballast, by providing a dedicated current to the system it is linked up with. Without an LED driver, high-power LEDs could potentially be damaged from running at improper currents or voltages. WEHO is proud to offer high quality, reliable LED drivers that can handle variable voltages and securely regulate input current – making sure your lights stay safe and your energy costs stay low.
We understand LED power supplies and how to get the best performance out of your LED system. Our team of power experts is available to answer any question related to lighting applications. With design engineering support, product procurement service, third-party logistics, and compliance services all provided under one roof, let WEHO be your trusted source for all your LED driver needs.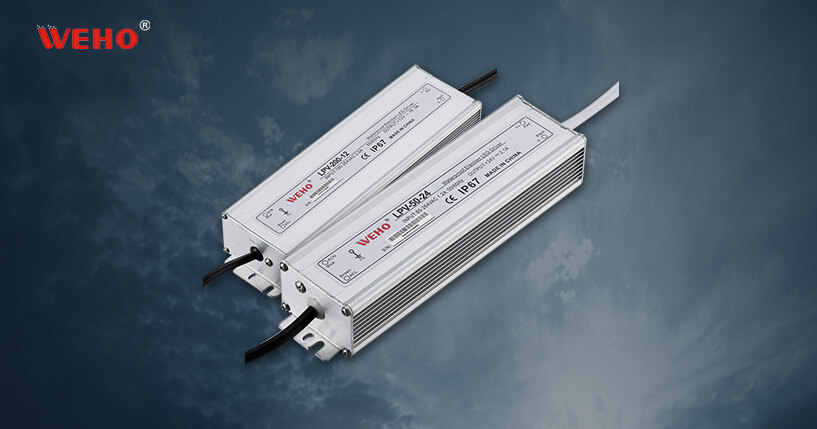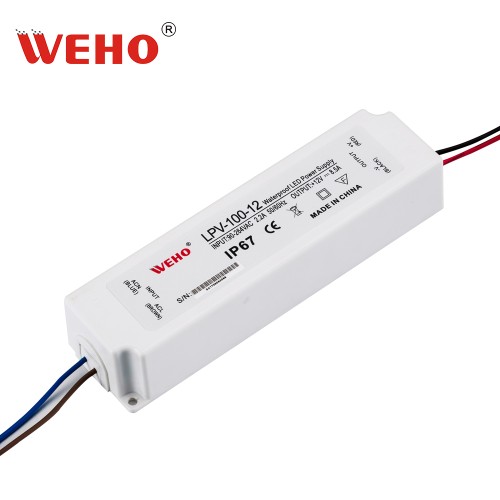 LPV Series Plastic Waterproof Power Supply
LPV Series Plastic Waterproof Power Supply
Ranging from 10W to 100W
100% full load burn-in tested to ensure maximum safety
All plastic power supply units are IP67 rated
View Products
LPV Series Waterproof Power Supply
LPV Series Waterproof Power Supply
Constant voltage in wet and dusty environments
Operate on off-line voltage (90-264VAC)
All waterproof power supplies are dust-tight
View Products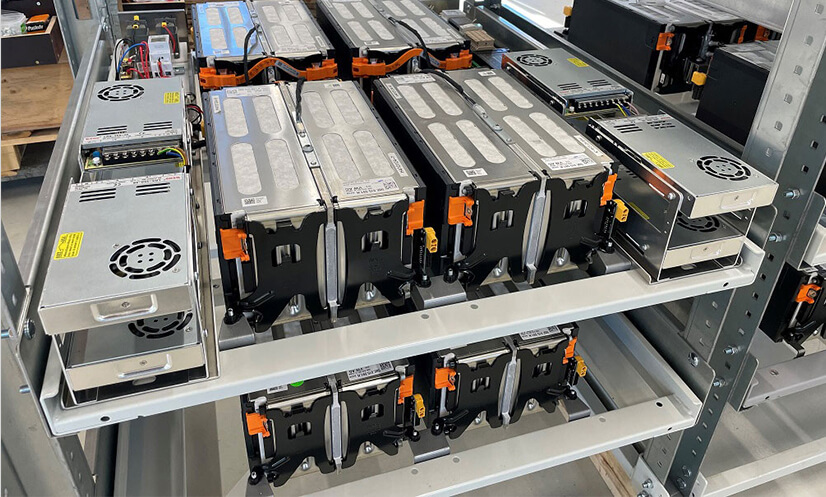 What is An LED Driver and It Functionality Explained
An LED driver is a device that provides the correct current and voltage to an LED to operate it within its safe operating limits. Driverless LEDs are typically powered by AC line voltage, which can vary widely depending on the country and power grid, and can range from 90 VAC to 264 VAC. The rectified DC voltage from the AC line is typically around 400 VDC. This high DC voltage is then converted by the LED driver into the correct desired current and voltage for the LED.
LED drivers are instrumental in avoiding any damage to LED connections. When the temperature of LEDs rises, so does its forward voltage, resulting in a spike in current. This build-up of current will eventually lead to the diode burning out, referred to as 'Thermal Runaway'. A constant-current LED driver recognises this and moderates the effect by delivering a steady flow of current regardless of changes in voltage. It is critical for efficient use that you invest in an appropriate driver for your LEDs—it makes all the difference between safe use or serious risks.

100% full load aging test

Waterproof IP67 grade

Automatic protection

The LED driver is NOT dimmable

Long lifespan

Energy efficient
Why are LED Drivers Important?
As the world moves towards a more sustainable future, LED lighting is becoming increasingly popular. LEDs are more energy-efficient than traditional incandescent bulbs and they have a longer lifespan. However, LED lights cannot be directly connected to a power source like other types of lights. They require a device called an LED driver in order to function.
LEDs are sensitive to voltage and current fluctuations and too much power can damage them. A good LED driver will protect your LEDs and ensure that they have a long lifespan. There are many different types of LED drivers on the market, so it's important to choose the rightone for your particular LED application. Some common types include constant current drivers, constant voltage drivers, and dimmable drivers.
● Constant current drivers are designed to provide a steady flow of current to the LED and are ideal for applications where a consistent brightness level is required.
● Constant voltage drivers regulate the voltage supplied to the LED, making them suitable for applications where multiple LEDs are connected in series.
● Dimmable drivers allow you to control the brightness of the LED and can be useful in settings where lighting needs may change, such as in a commercial or residential setting.
LED drivers are important because they help to regulate the power to LEDs, which improves their efficiency and prolongs their lifespan. Without an LED driver, an LED would only be able to operate for a short period of time before burning out. By using an LED driver, you can ensure that your LEDs will last for a long time and be more efficient.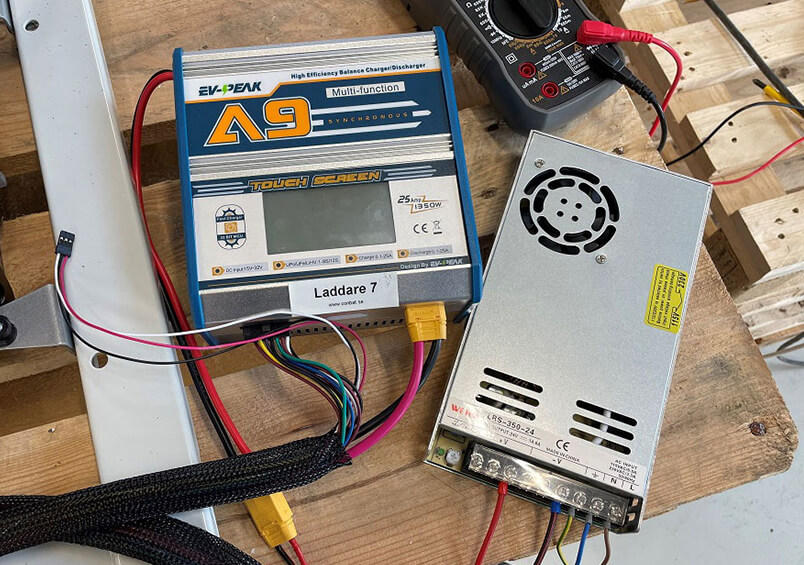 How to choose the right LED driver for your needs?
When it comes to LED drivers, there are a lot of different options on the market. So, how do you choose the right one for your needs? Choosing the right LED driver is an important part of any LED lighting project, and can greatly influence the performance and efficiency of your system. Take the time to research your options and ensure that you select a driver that meets your specific needs and requirements.

Wattage rating of the LED driver
The wattage rating will determine how much power the LED driver can deliver to your LEDs. Make sure to choose an LED driver with a wattage rating that meets or exceeds the power requirements of your LED system.

Consider the type of output you need
There are two main types of output: constant current and constant voltage. Constant current output is ideal for LEDs that require a specific, consistent current to operate properly. Constant voltage output is best for LEDsthat require a specific voltage to operate properly, and may be used in situations where you need to power multiple LEDs in series.

Ensure the output voltage or current
You should ensure the output voltage or current matches the specifications of the LED(s) you are using. Choosing an LED driver with an output that is either too high or too low may result in damage to your LED(s) or inefficient operation.

Dimming capability of the LED driver
Dimming is an important feature for many applications, as it allows you to adjust the brightness of your LEDs based on your specific needs. Make sure that the LED driver you choose is compatible with the dimming system you plan to use.
Custom LED Power Supply for Your Specifications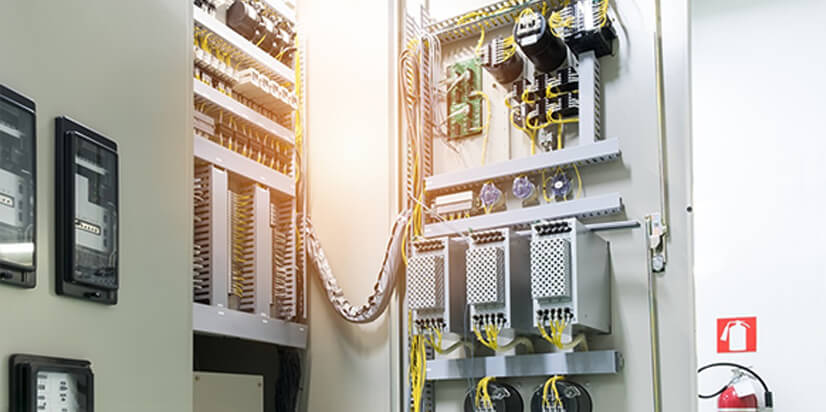 When it comes to LED power supplies, you want something that is custom made to your precise specifications. That's why we offer a range of custom LED power supplies that can be tailored to your needs. From input voltage and current to output voltage and current, we can design a power supply that meets your specific requirements.
Our custom power supplies are also available in a variety of package sizes and styles. Whether you need a compact power supply for a tight space or a rugged power supply for a harsh environment, we have you covered.
I you need guidance through your lighting application process, our knowledgeable team is here with technical expertise every step of the way. If sales or tech questions arise along the way, don't hesitate to contact us at +86-15869492061 or [email protected]. Whatever your needs may be, WEHO has got it covered!
Request an Instant Quote for Your Power Supply Projects Now
Get an instant quote or let us know what you're looking for and we'll get back to you soon!
Contact us